John Levine's Alphamusic™
A natural therapy against fatigue, depression and pain
There is a simple remedy with which you can banish fatigue, insomnia, fears and even some chronic illnesses – Alphamusic™.
It is ordinary music which affects the brain activity and which the scientific community has been studying with an increasing interest to discover its usefulness in everyday life. Due to its ability to influence brainwaves, their features and functions,
music is a powerful remedy which can help improve the quality of life and health.
In the following story about his alpha music you will learn how the Australian composer and meditation teacher John Levine used the link between the brainwaves and music and how he managed to improve memory and mood, eliminate pain and fear in children and adults.


Brainwaves – emotions, thoughts and mood
In 1924 dr. Hans Berger, a German physiologist, psychiatrist and neurologist, constructed a device known as electroencephalograph (EEG). The device was the first in history to physically register the human brain activity, later named 'Berger's wave'. Two basic wave types were observed in the beginning, specifically alpha (slow activity) and beta (fast activity) waves. Other frequency activities were discovered later and classified as theta and delta. The brainwaves are what underlies our emotions, thoughts and moods from a biochemical-neurological point of view.
Although it is clear that the brainwaves are a neural activity, the place where they are generated and where they communicate information in the brain is still a mystery.
We can define the brainwaves as a symultaneous energy release by a group of neurons. Their characteristics, frequency range, patterns and functional tasks can be divided into four basic groups:
alpha (8-13 Hz)
beta (13-30 Hz)
theta (4-8 Hz)
delta (1-4 Hz)
(since recently) gamma (30-70 Hz)

Good alpha waves and stressful beta waves
Alpha (α) waves are most frequently related to states such as relaxed mindfulness, awareness, creativity, strong associativity and unfocused attention.
This type of waves is linked to cases where a subject is expected to anticipate a certain stimulus or, in the situations of calm, to the sensations of 'floating' or pleasure.
An alpha brain activity is an integral part of relaxation before sleep. It arises almost immediately after the person closes his eyes leading to the emptiness of mind and the state of no thoughts.
As a person's growth is accompanied by the growth of his alpha strength, a process linked to an individual's maturation. There is an increase in the cognitive competencies and in the focus on the specific.
In this state, the individual is on the boundary between the wakefulness and sleep, but preserves the sense of alertness.
Meditative states and the integration between mind and body take place at this moment.
Alpha brain frequences are associated with the state of deep relaxation and calm. These factors are directly related to the reduction in stress, increased concentration, creativity, intuition, perception and immunity level, as well as to the processes linked to heart rate and breathing regulation.
On the other hand, beta frequencies are characteristic of the states of increased alertness, reactions and acute senses.
In such a state, the organism is prepared to fight and flight response when survival is at stake.
Decisions are characterized by the readiness for action and self defense, accompanied by quick and explosive responses to the given situation.
Such a type of adaptation automatically puts the body under stress, which can lead to negative physical and mental consequences in the long term.
Due to the accelerated pace of life, people experience more and more beta waves in their everyday life, which leads to a host of other problems. The quality of life decreases, acute stress and cardiovascular ailments appear, and the social skills deteriorate.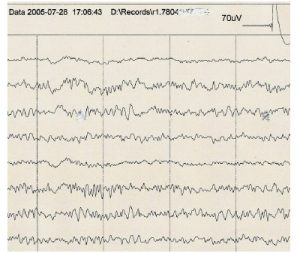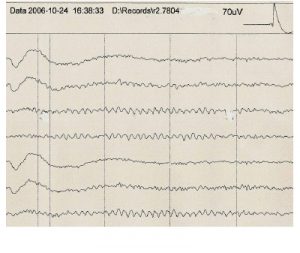 EEG recording before John Levine's Alphamusic™ has been used. EEG recording after the session with John Levine's Alphamusic™
Use John Levine's Alphamusic™ for a more creative and healthier life
John Levine is an Australian composer, piano player, meditation teacher and the author of numerous musical works designed to stimulate the alpha brainwaves.
His music is a medium with the strongest synchronizing potential.
This type of stimulation is an excellent technique of entering a determined frequency state.
In this state, there are feelings of calm, creativity and a higher control over life situations and behaviour. The mood is improved, thinking becomes more focused and self-respect is increased. The state of self-healing is enhanced too. It has been discovered that creative individuals spend most of the time in alpha and theta states. The athletes subjected to alpha stimulation achieved better results and performance. John Levine's Alphamusic™ is finding its place in numerous kindergartens, elementary and high schools, universities and hospitals. It is used for the purpose of improving the learning process, productivity and creativity and inducing relaxation. In 2003. Levine introduced Alpha music to more than 30 Australian kindergartens and child care centers. Soon afterwards he spread his practice to numerous hospitals and dental clinics which recognized a positive influence of background alpha music on their patients. Children in schools reported calm, energy, sublimeness, heightened associativity and synchronization of mind and body. John Levine's Alphamusic™ succeeded in ensuring alertness in pupils as well as a higher degree of knowledge absorption. It stimulated their imagination and emotions. They observed, they were more focused, active, productive and adaptable to new conditions. Children and parents were found to have an improved memory, a stronger sense of cooperation and a generally more relaxed mood. At the same time, the frequency of violence and disagreements was reduced. In the physical sense, many subjects noticed alpha music alleviated their headaches, hyperactivity and feelings of panic.
Numerous health benefits
John Levine's music strengthens immunity (reduces cortisol and increases melatonin), balances breathing and heart rate, relieves stress and stimulates self healing. Alpha waves have been found to induce a state of deep relaxation and inner peace, an increased decision-making ability and an enhanced short-term memory. They improve attention, imagination, concentration, creativity, intuition and perception.
Symptoms for which they appear to be beneficial include:
Insomnia
Chronic fatigue
Stress
Cancer
Diabetes
Back pain
Panic attacks
Anxiety
Depression
Schizophrenia
ADHD.

Dr. Iwona Olszewska i dr. Maciej Žarow published a study on the effects of background alpha music on patients in a dentist's waiting room. The patients reported they had observed the reduction of stress, anxiety, phobia and pain due to music.
The study showed this type of stimulation helps equally well with schizophrenia, muscle cramps, Parkinson's disease, ADHD and chronic back pain.

Dr. Rob Bridgman authored an equally interesting paper in 2005. He studied the effects of alpha music on the behaviour and scholastic results of adolescents with behavioural problems. By observing a group of ten children aged 12 and 13 with behavioural and emotional difficulties Bridgman noticed many benefits of Levine's music. The children achieved better test results and recorded a decrease in impulsivity, hyperactivity (by 46%) and talking in class (by 87%). Their overall academic success improved by 108,1%! The author also noticed an improved concentration, higher level of focus, greater drive and productivity.

All the studies conducted so far have confirmed the health benefits of John Levine's alpha music. Experts recommend its use not just to raise the quality of work, enhance memory, focus and calm, but also to strengthen immunity and aid recovery.

Credits: Alternative Healing – Your Guide to Better Health